This is My Corset Journal of the recreation of a 1884 Corset

This is My Corset Journal of the recreation of a 1884 Corset

After being on various corsetry forums on LiveJournal for a while and admiring all the beautiful work by the people there I have finally mustered up enough courage to try to recreate a historical corset myself. I am very much a beginner when it comes to making corsets only having made 3 so far based on the same simplicity pattern and those were in my opinion a breeze and very basic (even though i messed up a lot). I do however whole heartedly recommend the pattern to beginners or if you are looking for a basic corset style.

I searched high and low for an interesting looking 19th century corset and through the communities I came across this site: http://haabet.dk/patent/index.html. I felt as if i had hit the jackpot while surfing around on this site and then I saw it, the corset that would haunt my mind for a few months before I found the determination to finally create it. And here it is along with my journey of completing it.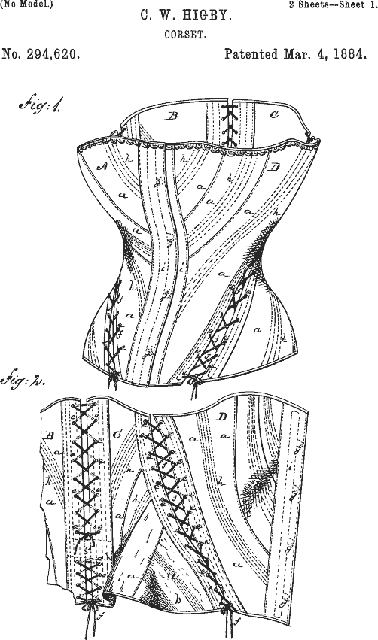 This corset patent can be found at: http://haabet.dk/patent/294620/index.html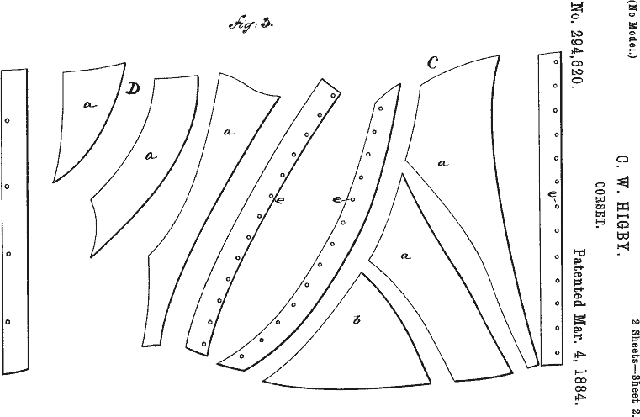 I started by taking the large version of this image found at the haabet site and put it into Photoshop to do a crude measuring so I could determine if I needed to alter the pattern significantly or not. It turned out to my surprise that the pattern is very close to my size only a smidge too big. How lucky is that? The measurements I came up with in Photoshop were:
Bust: 34 3/8"
Hips: 35 1/4"
Front Length: 15 3/16"
Back Length: 15 5/8"
The waist couldn't be easily measured this way so I pushed on while crossing my fingers that it wouldn't be too small for me.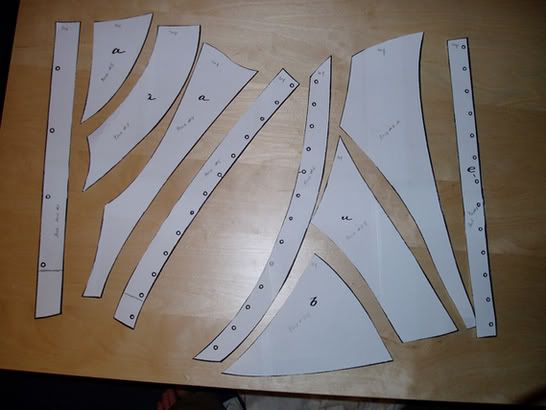 After printing out the pattern on several pieces of paper and then taping them together I was ready to try a quick mockup to see if it my crazy idea would actually work and if the Photoshop measurements were correct.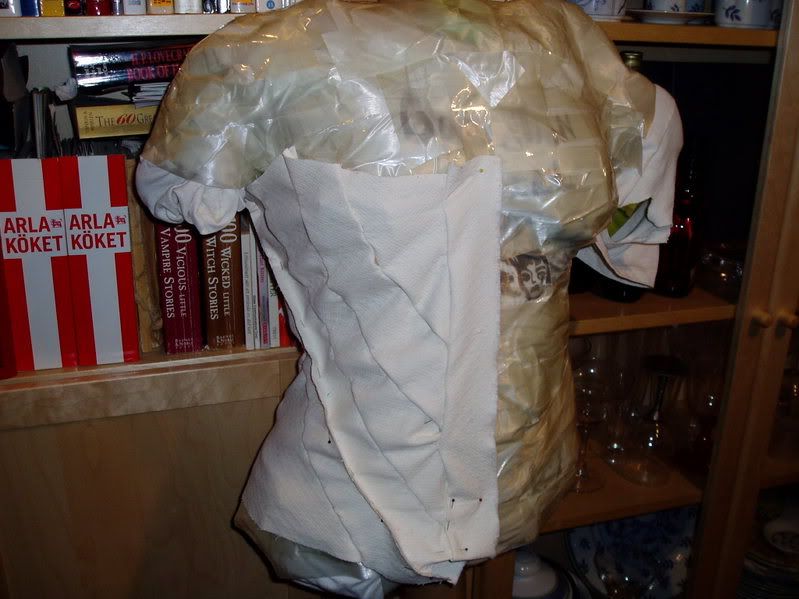 I found some scrap fabric and cut out the pieces. In my excitement and need to hurry I only did the one side of the corset and pinned them together. I put it on my lovely tape dummy of myself (I need to redo that so badly with better tape and stuffing). I was glad to see that it would actually work and that once again Photoshop proves to be my favorite program I have ever used :)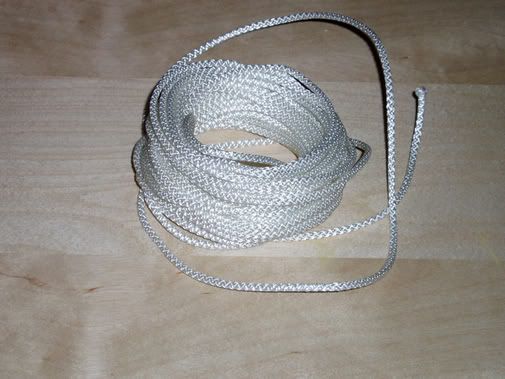 Pressing on I realized: Oh shit, this corset needs cording! I had never done cording before and figured that while it might not be hard I might as well ask around on the forum a bit to see what tips I could pick up. That thread is here: http://www.livejournal.com/community/corsetmakers/555262.html
Man I love you people on corsetmakers, not only are you so incredibly talented you are so nice and helpful too. Wow I learned everything I ever wanted to know about cording. I decided that I wanted to use hemp cord although when I went to the fabric store they didn't have any. I found this synthetic cord instead. It has a very stiff feel too it and i think there is a core of plastic in it or something. Thinking to myself, eh what the hell I might as well try it since i am not going on historical accuracy here (I hope to make this corset again and that time i will try to recreate it as accurately as supplies are available)
Here are the first three front pieces done with the cording. They are a bit wrinkly due to the slinkiness of the material and me trying to pull it tight for the cording.
Close-up of the cording, wow that left piece looks perfect... I give myself a pat on the back for that one :) Also note that i actually cut out the pieces of satin and muslin the same size and I didn't get much shrinkage of the satin when I did the cording.
Both of the front pieces are now corded and assembled. Yuck, look at that unevenness of the diagonal. In order to fix this I compared the two pieces to each other and trimmed it off (the bottom part of the right piece was accidentally folded up it is actually exactly as long as the left piece).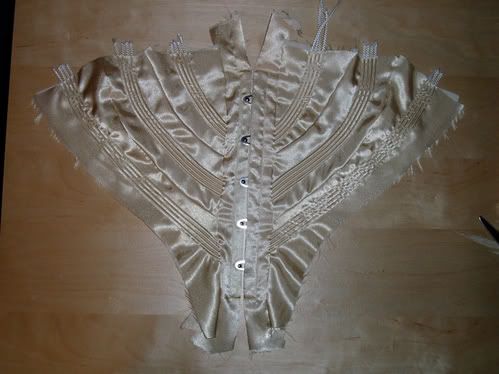 TaaDaa... After tidying up the pieces I cut out he busk part and then assembled it all together, hmmm looks kind of like a heart. Yet again due to the material being so slinky there are a lot of wrinkles but I am hoping that once the corset is fully assembled and cinched the wrinkles will minimize.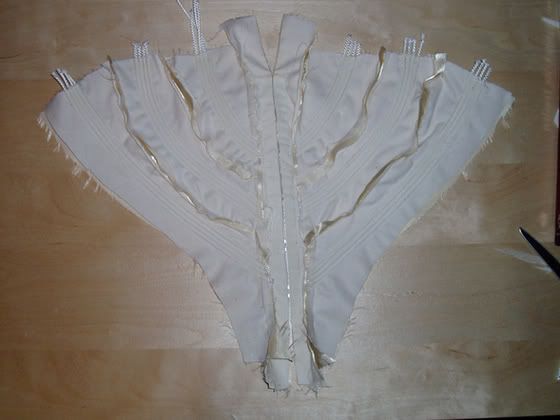 The inside of the corset, a layer of muslin.




Here is the front piece done except for grommets and top and bottom binding.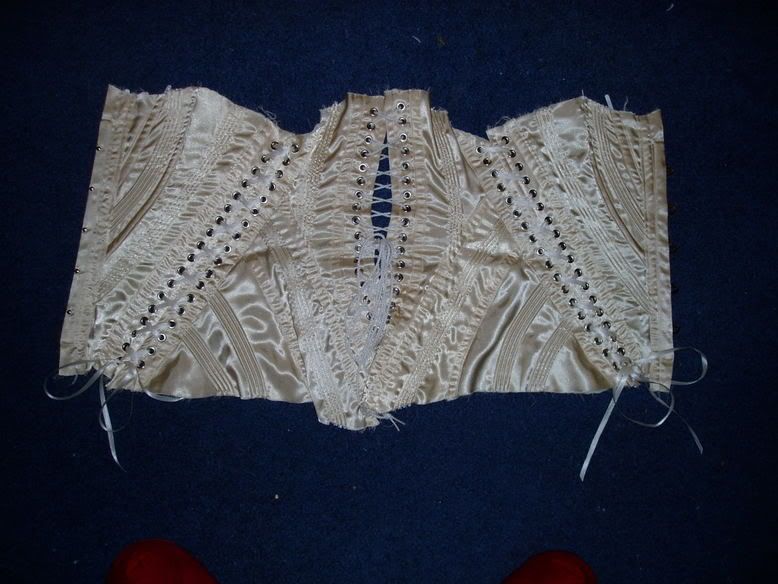 Yay almost done here only need to finish the binding. although my glee didn't last very long since this was the first time i could really do a fitting I realized that is was actually WAY!!! too big in the bust region. I ended up taking it apart twice and cut strips off to make it smaller. I guess i should've done a full mockup from the beginning, oh well.




Here is the inside view, All the white lines are my boning channels. A total of 22 bones all 1/4" steel.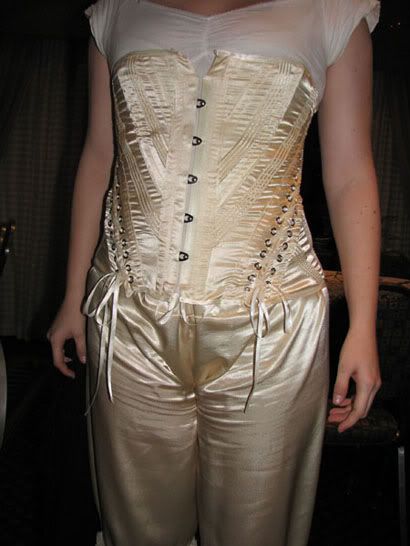 ALL DONE YAY!!!! Here is a front and side view of me wearing the corset. As you can see it's not the best fitting corset amd i know that is partially due to not making a complete mockup when i started but also because to me this was a very difficult pattern to figure out how it would actually fit so i couldn't take it in to make it more of an hourglass shape. Also my busk is too short, i ran out of time and only had this size busk available, i am thinking of either putting in some small hooks or do a couple of small lacing holes. Althougn I don't know if i will actually ever wear this corset again since i am not compleatly happy with the fit I might not bother to fix the closing issue.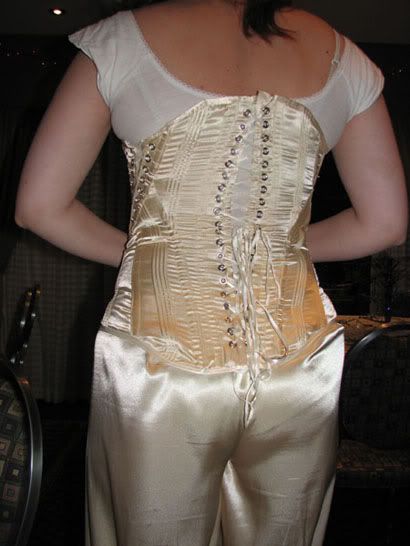 I swear this corset was laced evenly earlier in the night, I was very drunk at this point in the party as you can tell from my stupid grin in the next picture.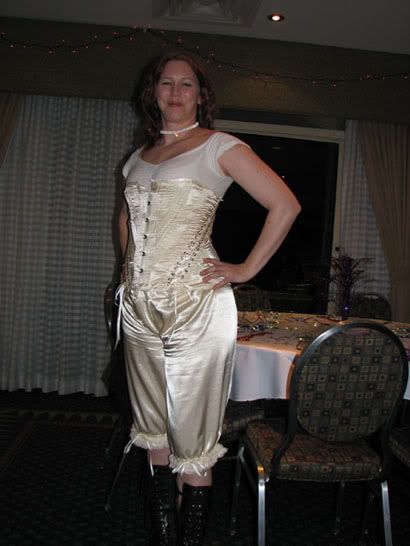 Here is a full body shot of me where you can see the patching bloomers i made too.

All in all i thought this was a very interesting looking corset but it is very hard to get a right fit out of it. I am proud of it yet i am unhappy with how it came out, i guess my expectations were too high is all. I learned alot about period patterns and new techniques like cording because of this project. Hopefully my corset journal will help some of you guys out if you ever attempt this or similar corsets.

PS thanks
lilkender for the last four pictures



Warning lot's of pictures!

Crossposted to my journal,
corsetmakers, and
corsetry
Current Mood:
artistic