So I just completed all requirements for graduating university with my B. Ed. Graduation means graduation party and I decided that I was making my outfit. And that my outfit needed to include a corset. And this time, I decided to try for some real reduction at the waist. Not much, since I don't need much, but a good 2-3 inches. After a few minor modifications to my original drafted pattern, a hand-sewn toile and a machine-sewn toile, I came up with this. It's still in progress, lacking the binding. I want to add pink or gold lace trim and the laces in the back will probably be pink, not purple. I'm going to add a skirt and some type of bolero top (lace maybe?). It needs to be toned down a little bit since I'll also be wearing it to my granddad's 90th birthday the day after my grad...

So without further ado, pictures and information under the cut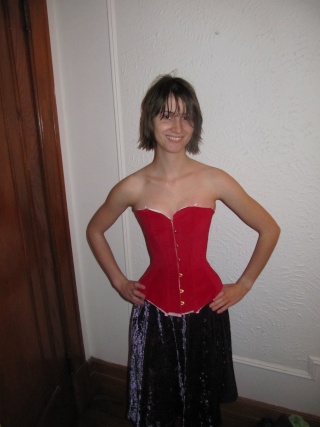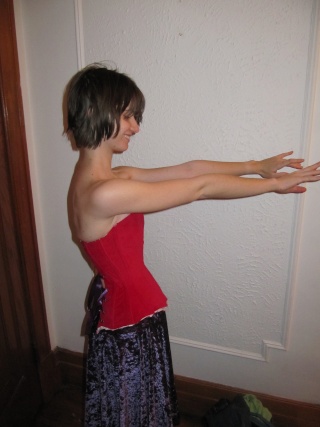 Not sure if it's just the angle of the photo or if it's just badly laced. Next time I wear it, I'll have someone help me lace it up to make sure it's even. I'm not really good at tightlacing by myself yet. I also want to put modesty panels front and back. And last but not least, before putting it on I will remember to remove any and all pins that were in the project. I drove all the way home from the sewing studio in that thing before realising what was poking me wasn't a bone, it was a pin.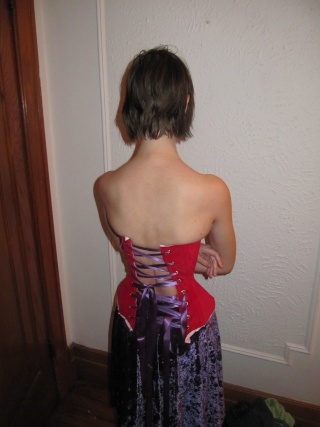 Inside lining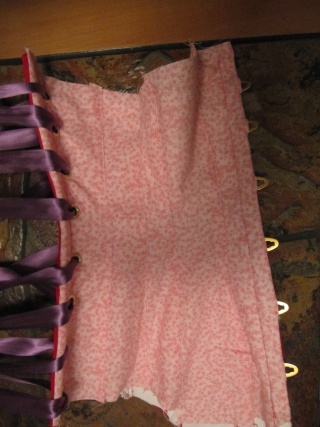 The fashion fabric is cotton velvet, fused to white denim for some pieces, white heavy canvas (a cut up karate gi in fact) for others, the lining is quilting cotton. I used Pellon double-sided fusing to fuse the fabric. My next corset I'm going to try the mistyfuse to compare the two. The bones are mostly spiral steels, except for two flats at center back. The binding is going to be bias-cut strips of the same red velvet, as I said I'm going to add probably gold (or pink) lace and pink laces for the back. I am a little concerned about the slight muffin-top at the back, even though the cups are a bit loose. I think next time I'll take the front pieces in a bit against the torso and I'll raise the cups a tiny bit.

I was just so pleased with it I thought I'd share!