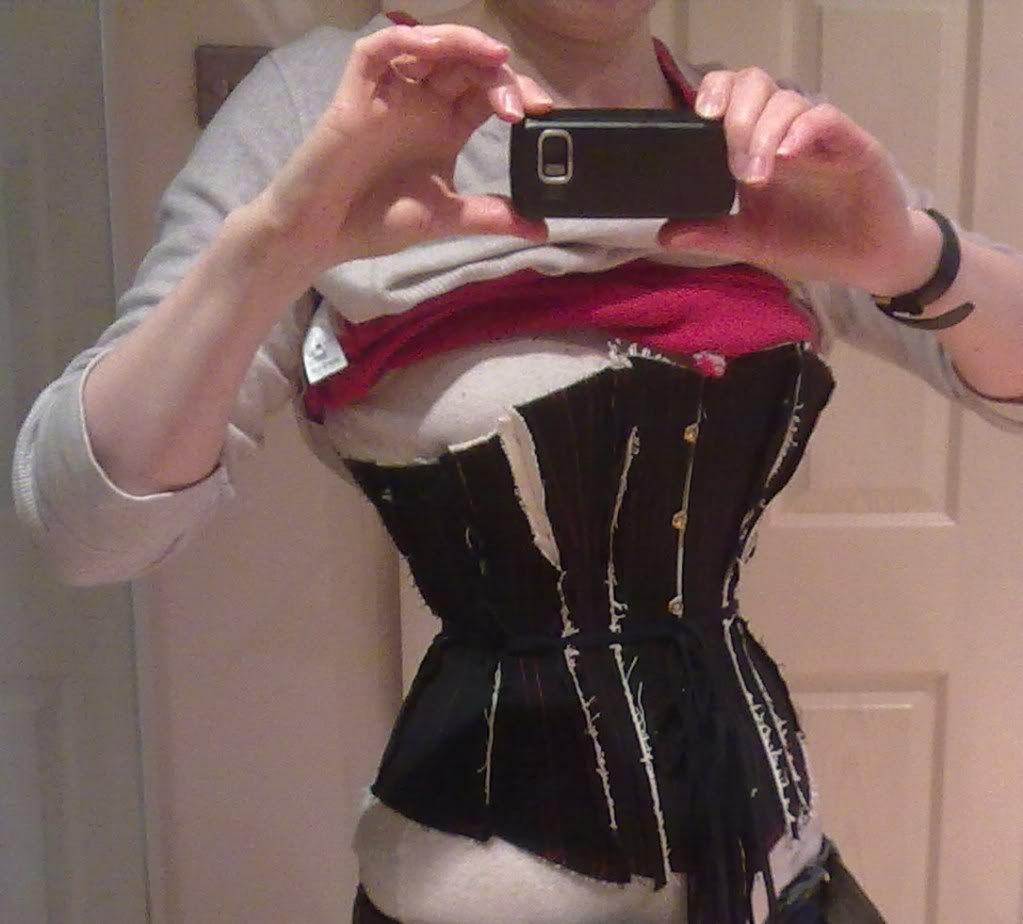 Fabulous va-va-voom hourglass proportions are only possible when you corset a squishable,
plus size figure. The best that a slimmer figure (like mine) can ever hope for is a slight
difference at the waist. Right?

WRONG.


The story so far

To recap, Mock-up #1 was a faithful recreation of a rather lovely Symingtons pattern from the 1890s, and it had one overall problem: despite having a lovely swoopy shape along the top, the sides of this design are cut so low that it caused a lot of muffin top under the arms.

Mock-up #2
With help and suggestions from you and others, I altered the pattern and tried again. I lengthened the pattern a little, because it needed it all around, and reduced the width of the pieces at the front bust, where it was too big.

I kept the swooping shape at the sides to see if I could make it work, and tried giving it more room in the bust at the sides and back to allow more room for that flesh that'd otherwise spill over and form the muffin top.

In fact, I gave it no reduction at all at the bust or hips, which is unusual for me. Corsets should hug the figure all over, or so I believed.

sparklewren had actually suggested giving it ease under the arms (ie making it bigger than my measurements) to allow room for the displaced, laced-in flesh to go to and the otherwise-a-muffin-top to sit in, but I was skeptical, so I didn't do that.

So, re-cut and re-made with no reduction except at the waist, this is the result.
Not bad! The muffin top is almost gone, and suddenly I have more curve, because duh, if you don't reduce the bust and hips by 2", they're 2" bigger, meaning your waist looks 2" smaller. More hourglassy already. (I still need to reduce the bust some more too.)

Mock-up #3
To see if I could get rid of the muffin top altogether, I altered mock-up #2 to add more room at the side back and back at bust level - so now I'm taking sparklewren's advice and adding ease. Literally, I just added a couple of elongated triangles between the pieces at the sides and back, adding a vast total of almost 2" each side at the bust level, fading to nothing at the waist. (I'm also still working on reducing and shaping the bust too.)

This is the result.
Looking good, right? But here's the cool part. Not only is the muffin top disappearing without me having to raise the line at the sides at all; I can also lace it tighter. MUCH tighter.
Why is this a big deal? Lady Curzon and I have similar dimensions, except for the waist. For all the Oak Leaf awesomeness, the one thing that bugs me is that I didn't have the hourglass figure for this look, my figure being modern, athletic and pint glass shaped. I know I'm nitpicking and I can't expect an Edwardian waist in this day and age, but the silhouette is strikingly different because of the bigger waist, and it makes the outfit a 9 instead of an 11, if you see what I mean.

Photo © Bath & NE Somerset Council

Photo © Kathy Lear
I made my Edwardian corset with the absolute minimum waist I could stand - 26" - and while I'm deeply proud of my achievement and aware that I'm asking a lot, I'm still not happy that the silhouette made the result fall short of full Edwardian awesomeness.

Twenty six inches has mocked me ever since. It's a paltry, beginner corset-wearer's 3" reduction. I don't like limitations of any kind. I grudgingly made these 1890s mockups to fit a 26" waist. So imagine what happened after I took the photos of mock-up #3, and then, just for fun, pulled on the laces.


HOLY CRAP, BATMAN!


This is one of approximately 456876 photos I took after achieving (for me) an unprecendented 24.5" waist.


Plus size ladies, I know this is nothing compared to
the results you get, but trust me, I felt like Mae West
in this photo. (Do excuse the state of disarray.)

I honestly did not think this was possible with my figure. By giving room in the bust and hips, there's more room for the flesh to be displaced and spread out - even on a distinctly unforgiving, non-plus-size figure like mine. In making that room, the bust and hips get bigger, making the waist look smaller. And by giving somewhere for the flesh to go, I can even lace the bugger tighter.

Take-away number 1: Only put reduction in the waist, and put EASE in the top half of the corset, especially at the sides and back.

Take-away number 2: Sparklewren is a genius. Listen to her.

This is why Foundations Revealed is written as a collaboration between 24 different writers, and why their readers can get great results faster: isolation does not work. None of us know it all. Teamwork works. Thanks, guys.



PS. For a heck of a lot of great corsets, check out the Double Period Project on that site now. Fifty three corset and costume entries in a very big competition; so much eye candy, you can't take it, and it's all free to view for everyone. Enjoy!