EDIT! Final photos here on Etsy:
http://www.etsy.com/view_listing.php?listing_id=26949324
Here is my photo journal how-to on this bridal corset I'm almost finished with. These are my personal methods - there are a million ways to do everything, so you may have learned other ways that work just as well! But this is my system, and it works for me, so there you go.
First up, I cut all of my pieces. For this one, it's a layer of dupioni silk flatlined to broadcloth, with cotton coutil for a strength layer, and cotton twill for a lining. That's pretty typical for me. The layers are roll-pinned, which allows for the outer layer of fabric to have a larger circumference than the inner layer, presenting a beautiful smooth look when around the body. It looks puckery laid flat, but that all goes away while it's on. This is why it's not a good idea to design a corset to be reversible - because roll-pinning is really really important!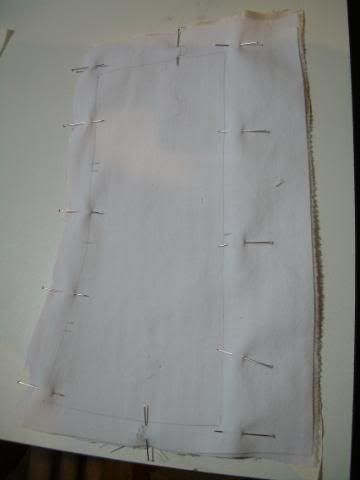 Pinning
From right side
Look how lovely when laid on a tubular object!
The layers are flatlined together on the largest stitch length 1/4" from the seam line. This is conveniently the width of my presser foot. On a side note, all pieces are marked with stitch lines. Stitching by seam allowance is not a very accurate method, especially for something very fitted like a corset, so I do all of my work by pinning stitch line to stitch line.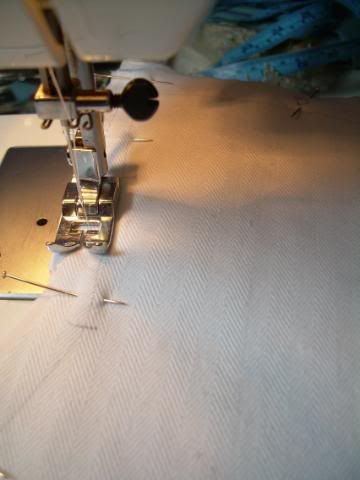 I cut a waist tape out of 3/8" twill tape or tailors tape, and shrink the bejeebers out of it by wetting and pressing dry. I mark where each seam should hit on the tape for the best accuracy.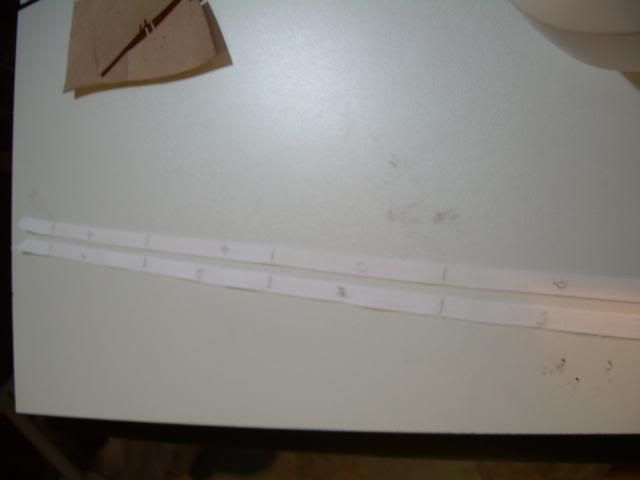 I mark the busk on the front pieces, and set it using a piping foot. I don't know how I ever got anything done before using a piping foot... I use it for zippers too. I can't imagine setting a busk without one!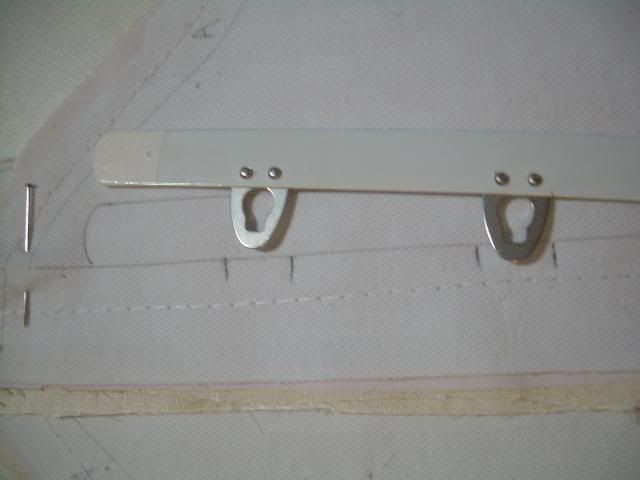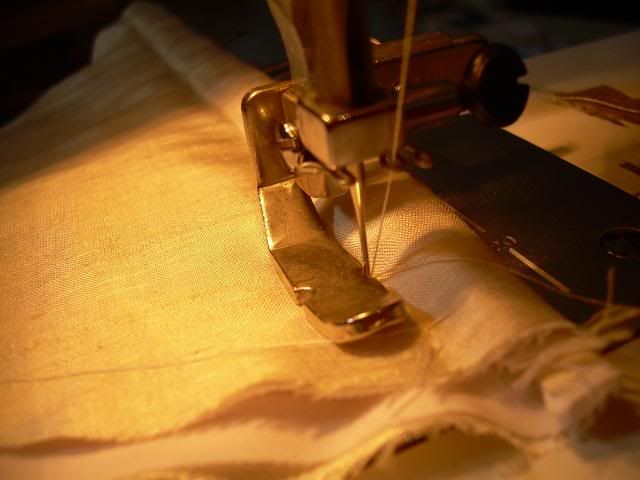 For the knob side, I build in a modesty placket by extending the front seam allowance an extra 1/2" and then putting an extra line of stitching at center front for where the busk actually begins. This prevents any peek-a-boo of clothing or skin (ouch!).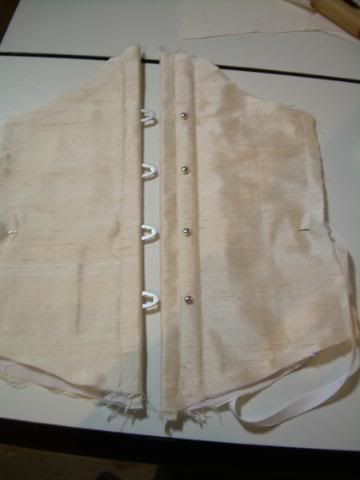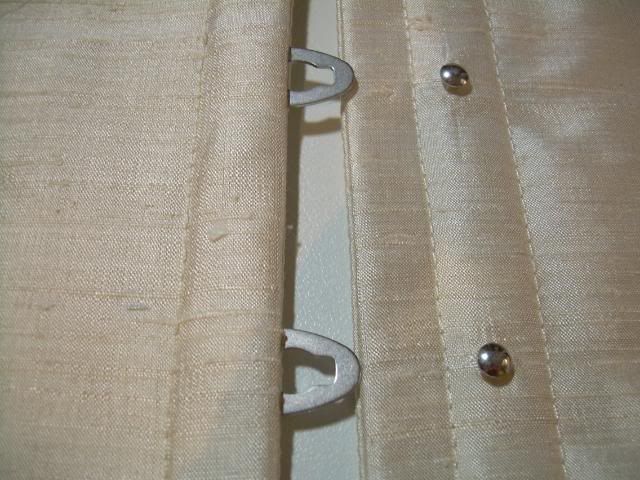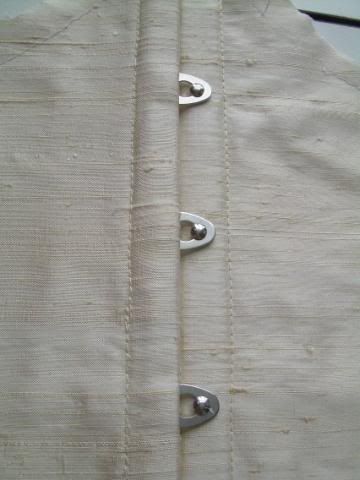 Now for the stitching. I sandwich the waist tape between my layers, by the way. I lay right side to right side of my fashion fabric unit (silk, broadcloth, coutil), and then the same for the lining pieces. I stitch though all pieces at once right on the stitch line, through the waist tape, and then I go back in and restitch over the waist portion just inside the seam allowance for extra reinforcement. The pinning is tricky to match stitch lines on all four pieces, but you get used to it after a bit of practice. It's way harder on overbust corsets where there are bust curves to be dealt with!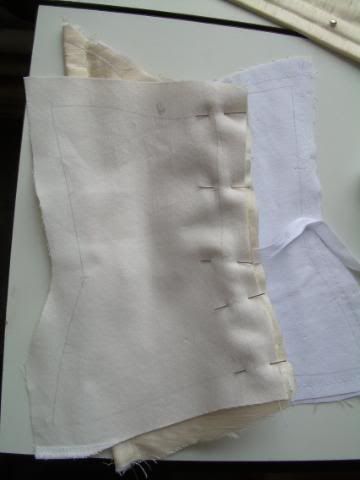 Then I trim my seam allowance, clip at the waist slightly, and press the living daylight out of it! Then I topstitch on that seam to further strengthen it.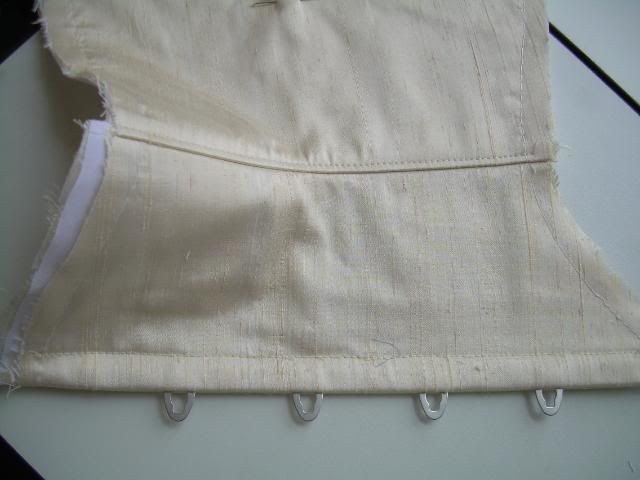 At the center backs, I trim my CB seam allowance to 1 3/4". I press it back as a facing to the wrong side, and then press under the edge again so that I have a 1 3/8" facing. Then I stitch in 2 casings for my back bones, with a 1/2" space in between them for the grommets.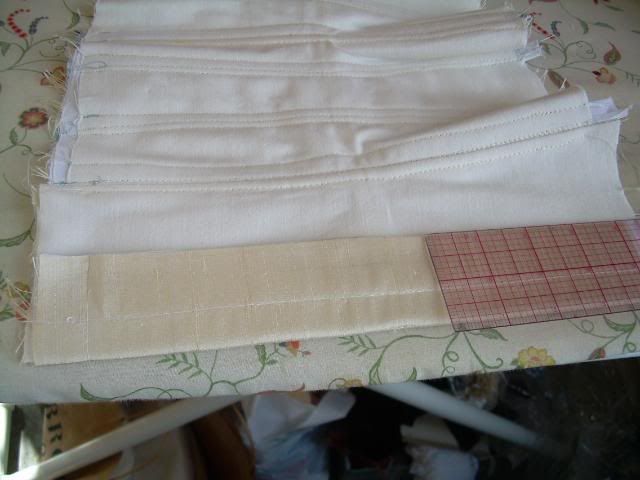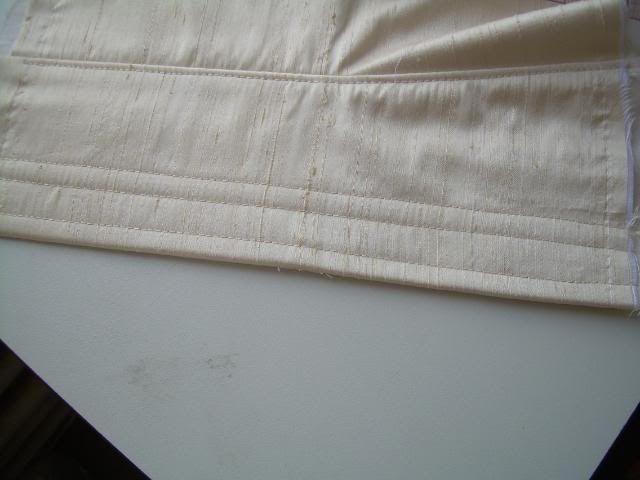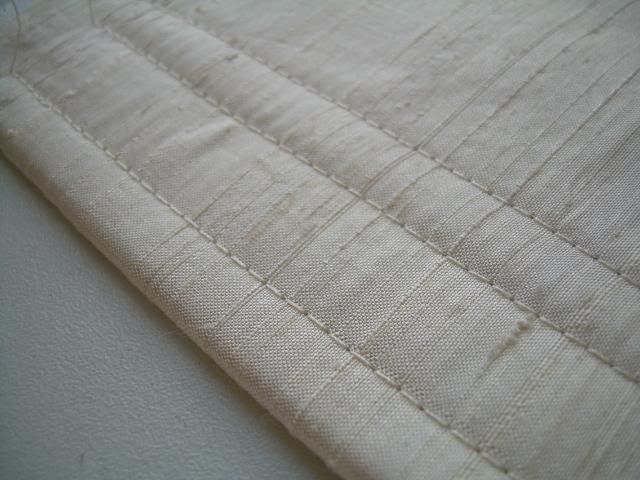 Next up, external boning casings. They're a layer of silk laid over a tube of coutil. First mark my casings with chalk. Then I stitch them right next to my seams (they're a little bulky to put the casings directly on top).
Then I mark all of the in-between-the-seams ones with chalk. I pin the fabric around them carefully so that the excess silk from roll-pinning is evenly distributed.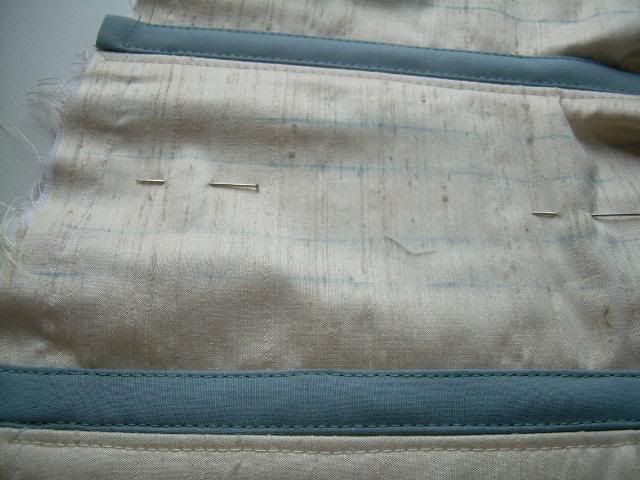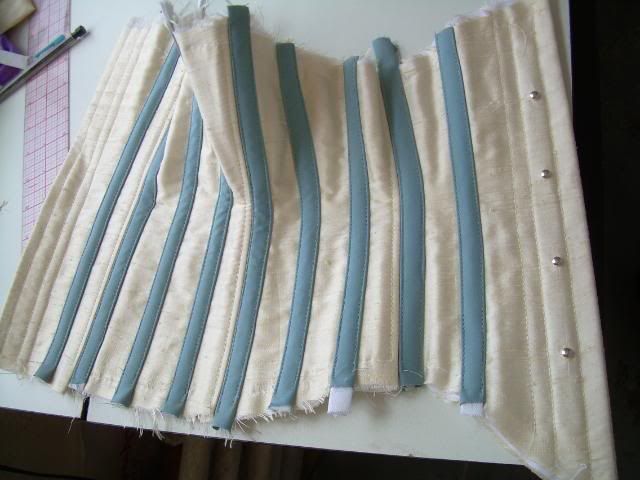 The lace is laid down along the top edge and stitched into place. Then the binding goes on. When I use a thin silk like this to bind it, I like to use a double layer binding for extra strength. It's so thin that it really doesn't bulk up the edge too much.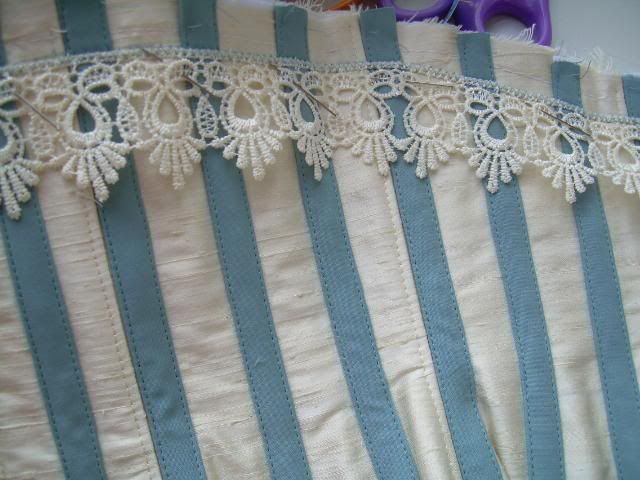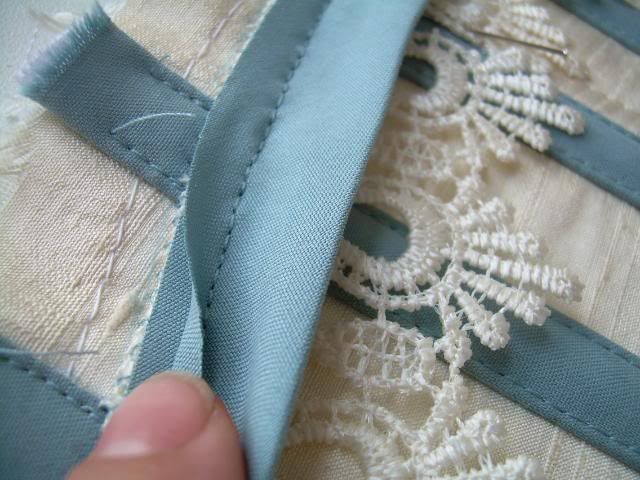 The binding is machined onto the right side and then hand slip stitched onto the lining side. This makes for neatness inside and out! Remember, always press after every step - it makes the difference between a garment looking homemade and a garment looking handmade!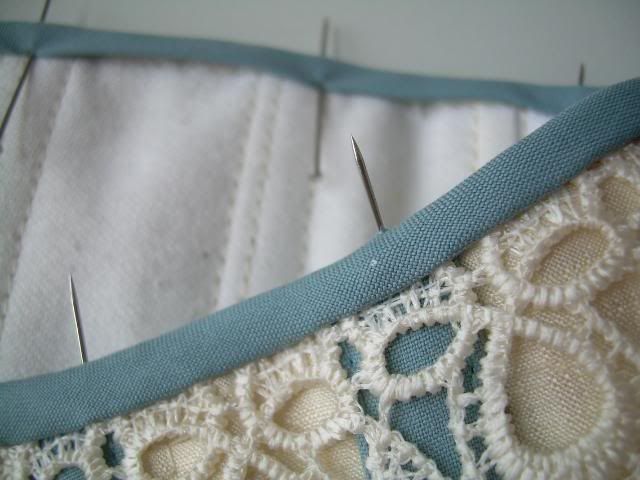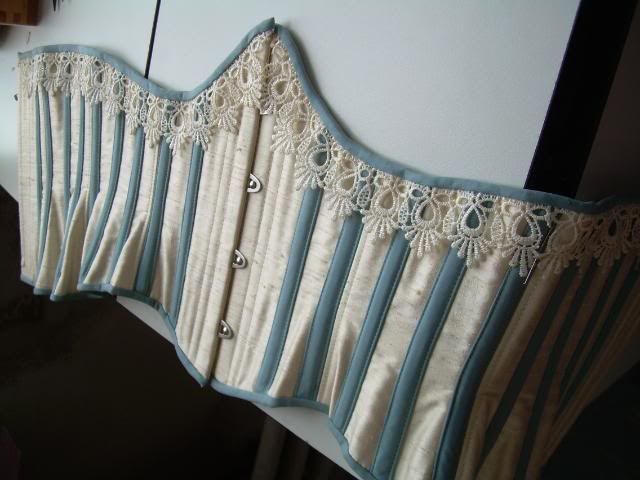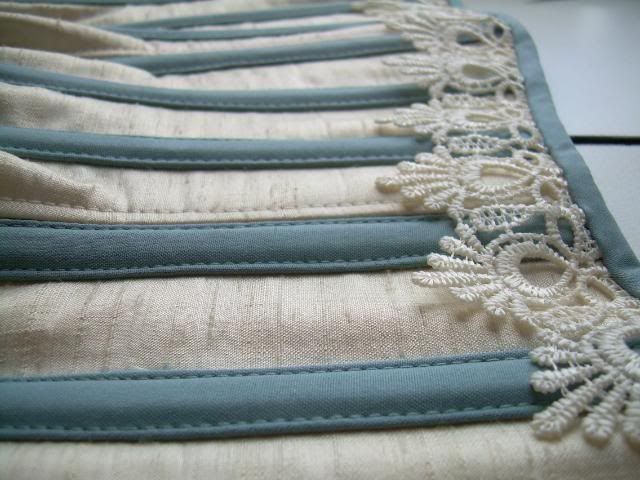 And that's pretty much it besides grommets and other boring things! :) If there are any clarifications that need to be made, I'd be happy to take more photos so just let me know. My corsets are for sale through Etsy (
http://espalore.etsy.com
) and through me privately at info(at)angelafriedman(dot)com.
Thanks for reading!